That's the catch phrase for the city. I found the lack of popular fast food chains a bit weird so that's one thing. Austin is succeeding in its quest to promote local businesses. The city is called "the blueberry in the tomato soup" – it's a liberal dollop in a sea of Republicans.
Austin is an older city that Millenials (Gen Y) and Centennials (Gen Z or iGen) are staking a new claim on. The city draws the artsy and techy types. I'm from the early years of Generation X and felt out of place in SoCo (South Congress area).
Accommodations
I stayed in the South Congress Hotel (a River City room). The target demographic of this hotel is Millenials. I'm a "young" a 52-year-old, but I wasn't as comfortable as I would have been in a Marriot or Westin hotel. If there's ever a "next time", I will opt for a different hotel.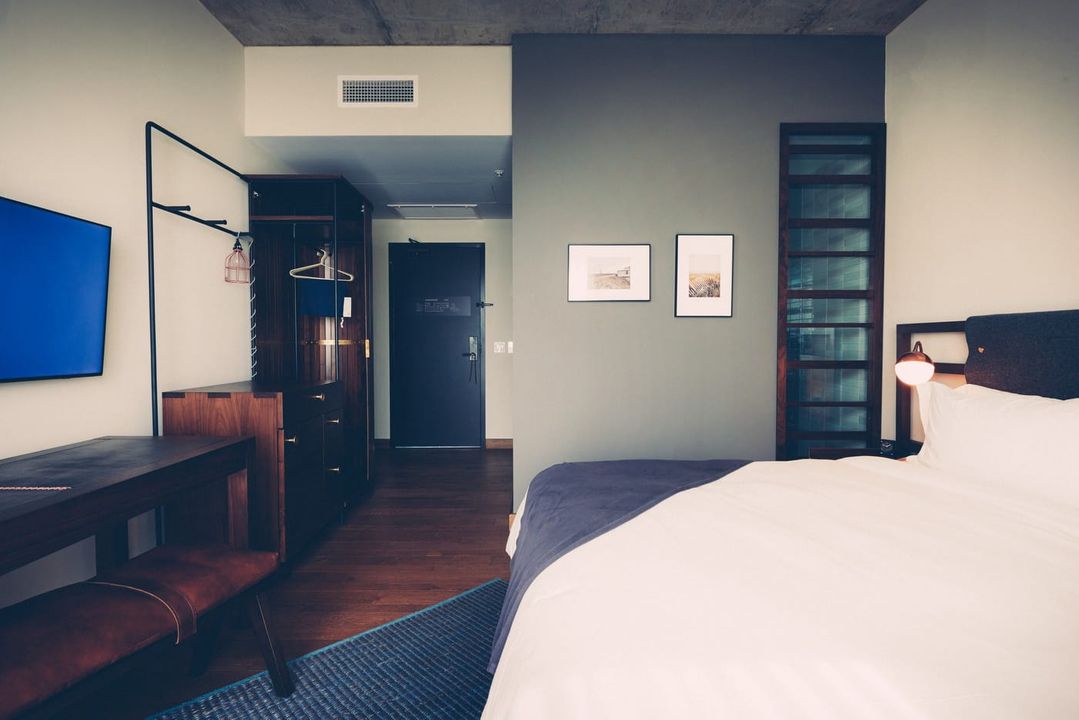 The room photo is the type in which I stayed. The window on the right looks into the shower. It's right across from a floor-to-ceiling window overlooking a courtyard. On the other side of that courtyard are more hotel rooms. I didn't realize the first two days that there was a room-darkening shade and only had the sheers drawn. I turned the light in front of the window on and left the bathroom lights off when showering. So that's another weird thing!
The Apple TV had Chromecast, which I used half the time to choose shows from apps on my phone (HBO GO, Hulu, and Netflix). The other half of the time, I watched the Stanley Cup Finals … LET'S GO BLUES!
I experienced a waterfall shower head for the first time, which was underwhelming. I also experienced a shower knob with stripped threads! My shower was stuck on the last two days. Maintenance replaced the knob but must not have tested to make sure that fixed the problem. I couldn't adjust the temperature to something below scalding the second time. No shower for me that morning. I had to take a shore shower and get ready in a steamy bathroom. The entire hotel room started to get steamy. I packed fast and left the room frustrated.
The closer I got to the front desk to check out, the more enraged I became. I knew it wasn't the desk clerk's fault, so I wasn't going to yell at her. Instead, all that emotion came out in tears that would not stop. I was mad about the shower, sad to be leaving coworkers, and missing home all at once.
On the upside (sorry to keep going on about this incident), there was free coffee in the lobby! I took a cup into the bar/lounge area and spent time on social media on my laptop while waiting for my coworker. We didn't need to leave for the office for another half hour.
Restaurants
The first evening, we ate at Boticcelli's. I ordered the PANSOTTI DI FUNGI (house-made ravioli filled with portabella and crimini mushrooms with ricotta and herbs tossed in a Marsala cream sauce with sweet peas, cherry tomatoes, and green onions). OH. MY. GOD. That was amazing! The Italian Pinot Noir I had was also amazing.
Our manager and supervisor took us to Terry Clark's BBQ the next evening. This was after happy hour drinks at nearby El Alma. Texans call anything cooked on a grill BBQ because they don't put sauce on anything. It's all about the rub, which is heavy on the pepper. You pick your own sauce from three at the table (mild, medium, and hot). Being from St. Louis, I went into the restaurant skeptical. As I suspected, Texas BBQ has nothing on St. Louis BBQ.
We were on our own again the third night and decided to try Torchy's Tacos. I thought it was only a Texas place, but I discovered that we do have one in Denver. I will eat that again!
Our manager and supervisor took us out to dinner again on the last evening there. Elizabeth Street Cafe sounds like a sweet little American restaurant. Nope! They serve Vietnamese food. I tried Phở for the first (and last) time. It's very bland first of all. No matter how many extra herbs and sauces I added to it, it was not to my taste at all. I should have ordered the Bún.
We ate dessert several blocks up at Dolce Neve Gelato. I had a small half Crema Dolce Neve (Custard with Lemon Zest) and half Chocolate 70%. They were good. I'm a simple gal, who is fine with vanilla soft-serve ice cream or frozen custard.
Getting Around
I never used Uber or Lyft before and used them several times during the five days I was in Austin. My first experience was with Uber, which was how I got to the airport. Halfway through the week, I switched to Lyft. There is no difference in the service. Many people drive for both companies. Lyft serves North America only. Uber serves cities in the European Union, Central and South America, Africa, Asia, and Australia and New Zealand. A person's preference may be driven by deeper reasons (political or moral). Others, like me, have both apps on their phones to choose which ride will be there the soonest and cost the least.
Have you been to Austin? Where did you stay? Specify your age range to give more context.